CNRS research director at the University of Strasbourg (corresponds to full professor) and  adjunct professor in our laboratory since 2015.
Contact: desaubry@unistra.fr
Dr Désaubry's research is devoted to the design and synthesis of various classes of drug candidates to treat  cancers, heart failure, neurological and inflammatory diseases. At TUST, his main project is performed in collaboration of Dr Dong WANG on new reactions in heterocyclic chemistry and the the development of  chemical probes to examine the role of prohibitins in cell biology.

One of our more important achievement has recently been published in Green Chemistry. 130 years after Oskar Döbner's seminal report we found that the replacement of pyruvic acid by a pyruvic amide drastically changes the outcome of the 3 component  reaction with an aniline and an aldehyde.
Catalyst-free three-component synthesis of highly functionalized 2,3-dihydropyrroles. Wang D., Li L., Feng H., Sun H., Almeida-Veloso F., Charavin M., Yu P., Désaubry L. Green Chem. 20: 2775-2780 (2018).
Stereoselective four-component synthesis of functionalized 2,3- dihydro-4-nitropyrroles. Wang D., Ma X., Feng H., Yu P., Désaubry L. Front. Chem. 7: 810 (2019).

Recent advances in the synthesis of 2,3-dihydropyrroles. Wang D., Fan Y., Yu P., Désaubry L. Chem. Commun. 56: 5584-5592 (2020).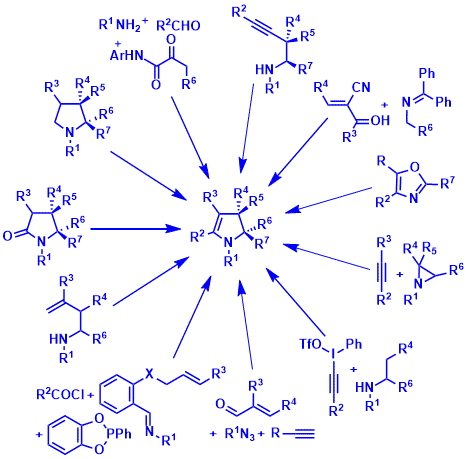 A one-pot selective saturation and functionalization of heteroaromatics leading to dihydropyridines and dihydroquinolines. Wang D, Jiang Y, Dong L, Li G, Sun B, Désaubry L, Yu P.  J. Org. Chem. 85: 5027-5037 (2020).

Prohibitin ligands: a growing armamentarium to tackle cancers, osteoporosis, inflammatory, cardiac and neurological diseases. Wang D., Tabti R.,  Elderwish S., Abou-Hamdan H., Djehal A., Yu P., Yurugi H., Rajalingam R., Nebigil CG., Désaubry L. Cell. Mol. Life Sci. 77: in press (2020). DOI: 10.1007/s00018-020-03475-1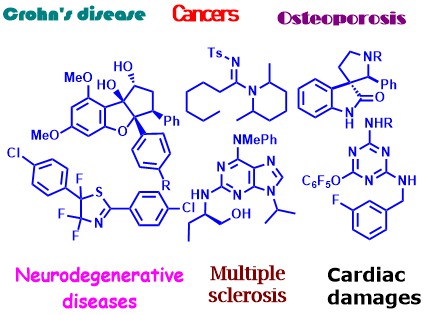 Accessing 1,8-naphthyridones by metal-free regioselective amination of pyridine N-oxides. Zhao L., Hao L., Fu Y., Cheng Y., Pan G., Désaubry L., Yu P., Dong Wang D. Adv. Synth. Catal. In press, (2020).doi: 10.1002/adsc.201

Laurent Désaubry's webpage at the University of Strasbourg in France: http://desaubry.u-strasbg.fr/